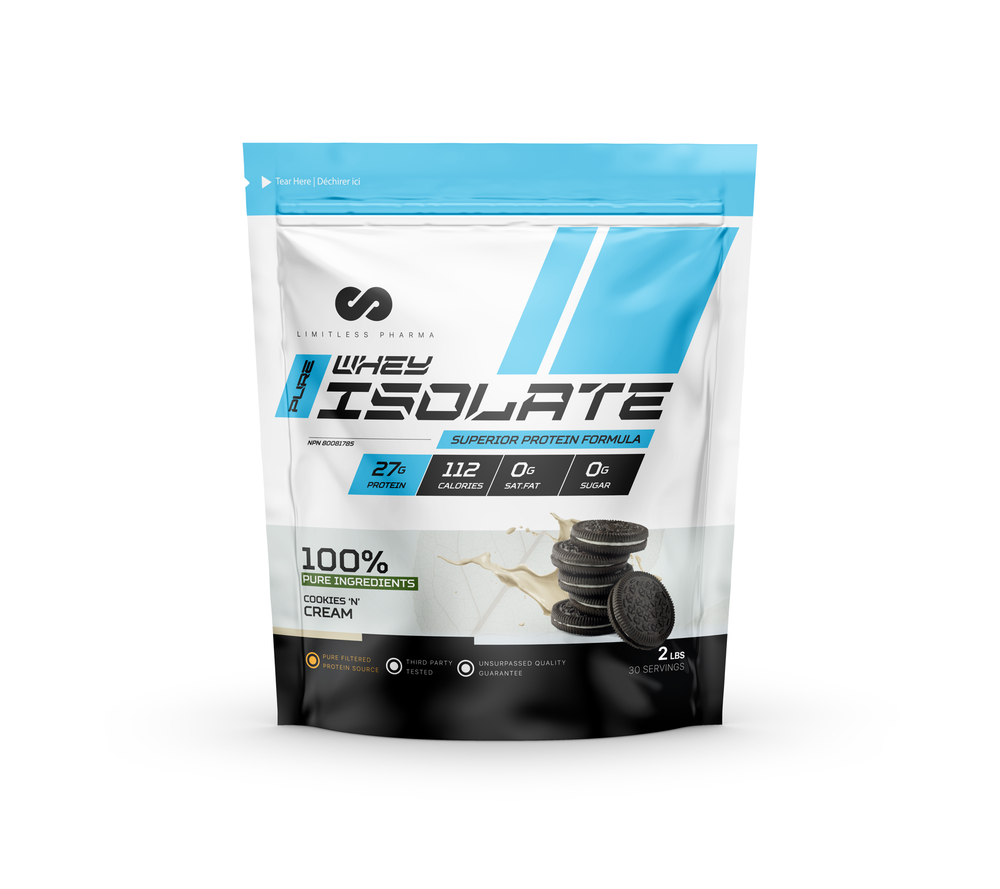 Sale price

$59.99

Regular price

$38.99
PURE WHEY ISOLATE 2LBS
Close
A NEW STANDARD IN TASTE
Our 100% Pure Whey Isolate is the best form of whey you can get in the market. It contains the highest protein amount, i.e. 27 grams per scoop. Because it uses the latest whey extraction technology available to date, the final protein isolate is of the purest form and has little carbs and fat.
Limitless Pharma Whey Protein Isolate Powder is the most bioavailable, soluble and complete protein source. Besides high protein content, it has many important nutrients such as Sodium, Potassium, Vitamins, Iron, among others. Our Premium Filtered Whey Protein is prepared through a research-backed process that leaves optimum levels of useful nutrients and significantly lower amounts of lactose, fat, sugar and carbs.
Our protein powder is quickly digested, ensuring your muscles get the protein when they need it the most, especially immediately after a workout. Also, it gets broken easily into digestible amino acids, which help repair and build muscles.
Whey Isolate is commonly used by athletes and bodybuilders around the world, who find it highly useful and beneficial to improve their physical strength and performance. Every ingredient in Pure Whey Isolate is laboratory tested and carefully selected keeping in mind the overall goal of delivering the purest and superior protein to our users.
Our Pure Whey Protein Isolate powder is available in 10 super amazing and delicious flavours that will simply uplift your mood and make your recovery process tastier than ever.
Top Benefits & Features of Pure Whey Protein Isolate Powder
100% Pure & Research-backed
Latest Extraction Technology for Best Quality Whey Protein
Lower Amounts of Lactose, Fat, Sugar and Carbs
Improves Lean Muscle Mass
Repairs and Builds Muscles
Helps Curb Hunger and Promotes Fat Loss
RECOMMENDED DOSAGE:
One serving (one scoop) mixed with 250ml of water or milk.
Bodybuilders & athletes: for maximum results, take 2 to 4 scoops of Whey Protein Isolate Supplement daily.
FREQUENTLY ASKED QUESTIONS (FAQ)
How is it manufactured?
Whey Isolate is a processed form of whey, which is produced by extraction of whey from milk. Our latest whey extraction technology ensures the highest amount of protein and lowest amounts of lactose, fat, sugar and carbs.
Should I use it before or after a workout?
Use immediately after exercise, within an hour.
How should I use Pure Whey Protein Isolate Supplement?
Mix 1 scoop or 31 grams of isolate protein powder in water or milk (250ml). It can also be used between major meals (breakfast, lunch and dinner). Drink plenty of water to keep the body healthy and hydrated.
What kind of side effects does your product have?
Our Whey Protein Powder is tested multiple times during and after manufacturing and only uses laboratory tested ingredients to ensure there are no side effects at all. It has no heavy metals.
How is Limitless Pharma Whey Protein Isolate better than other brands?
Whey Isolate is the purest form of whey with the highest protein content and the highest biological value (104). In addition, our superior extraction process ensures there are only the best ingredients in the final product and no harmful metals. It has the complete profile of branch-chained amino acids, in addition to some of the healthiest nutrients.
What kinds of sweeteners do you use in Pure Whey Isolate? Are they safe?
To give our Pure Whey Protein Isolate a mildly sweet taste, we use stevia sweet and sucralose, which is a zero-calorie artificial sweetener. Both are safe and commonly used sweeteners for protein supplements.
How long does it take to digest?
Our product is easily soluble and digestible. When you take it after a workout, it gets easily absorbed into the muscles and provides the essential amino acids and nutrients your body needs to repair and rebuild bigger muscle tissues.
Can I cook with Pure Whey Isolate?

Absolutely! Our protein powder mixes well in a shaker cup and can be combined with other ingredients in a blender to make excellent smoothies. We also recommend looking at our Recipes blog section for more inspiration and snacks!