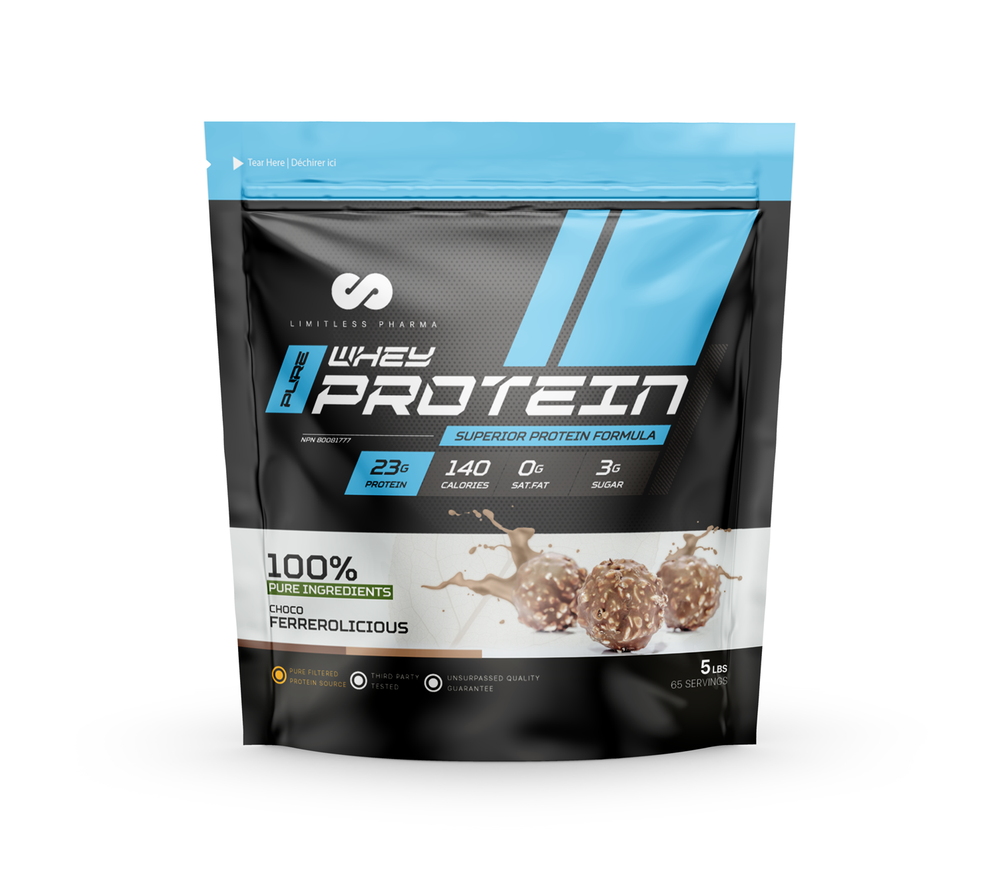 Sale price

$69.99

Regular price
PURE WHEY PROTEIN 5LBS
Close
Whey Concentrate Protein is the premium standard protein powder made with 100% pure and natural whey concentrate. We employ the latest extraction technology to achieve the highest protein content in our concentrate. If you compare our product with others in the market, you'll find that our Whey Protein has the lowest amounts of fat, carbs, sugar and lactose.
The protein content per scoop is 23 grams, which is the best in the market. Also, it's much cheaper than Whey Isolate. Being affordable, it's ideal for workout beginners and common men or women looking to meet their daily protein requirements.
Our Pure Whey Concentrate is a 5-star product in terms of quality and quantity of protein, wide range of flavours and super smooth texture then blends instantly with any drink. The Whey Protein is highly soluble and gets immediately absorbed by the muscles to repair and build tissues after a workout. For the best results, it's recommended to take with water or milk. Each serving of Whey Protein contains 23g of pure protein, so an average person can easily meet his/her daily needs with just two scoops of it.
The Whey Protein Concentrate is made with a research-based formula and is tested multiple times to ensure there are no heavy metals. Also, we use stevia and sucralose to naturally sweeten the powder. Unlike other protein supplements in the market, our Ultra-filtered Whey Protein Concentrate is completely safe to use and comes with a 100% quality guarantee. It comprises only the best ingredients and little artificial flavour.
Whey Concentrate Vs. Isolate
Unlike our Protein Isolate variant, the Whey Protein Concentrate offers a slightly lower amount of protein because of a different extraction process. But, the ultimate result is the purest quality protein at a cheaper rate. Whey Concentrate costs much less compared to Whey Isolate and is perfect for beginners.
It's available in 10 amazing flavours.
RECOMMENDED DOSAGE:

One serving (one scoop) mixed with 250ml of water or milk.

Bodybuilders & athletes: for the best results, take 2 to 4 scoops of Whey Protein Isolate per day.
FREQUENTLY ASKED QUESTIONS (FAQ)
What is Whey Protein Concentrate?
Whey Protein Concentrate is a protein supplement made from whey (the liquid left after cheese is made from milk). Whey protein is produced through the processing of whey. The limited processing of whey results in concentrate protein powder, which is a pure protein supplement with a decent content of protein and amino acids. It also has fats, carbs and lactose.
What are the benefits of your Whey Concentrate?
Our Whey Concentrate is made through the processing of whey at low temperatures to retain the maximum nutrients. It's a premium grade protein with the smoothest texture, high solubility, a mildly sweet taste, delicious flavours and zero grittiness. Also, the results are absolutely awesome and better than you'll expect.
Is this product natural?
Yes, our Whey Concentrate Protein is a completely natural source of protein made from milk/whey and uses natural ingredients like stevia for sweetness. Our protein, as shown by research, contains the finest quality protein and the complete range of amino acids and BCAAs.
Who should use Whey Protein Concentrate?
Whey Protein is safe to use by anyone who is looking to meet their daily protein needs. An average person needs to consume about 56 grams of protein per day. If you aren't getting that from your regular food or tend to skip breakfast, you can take our Whey Protein Concentrate to meet your body's nutrient needs and remain energized the whole day long.
Should I use it before or after a workout?
Ideally, whey protein powder must be taken immediately after a workout, as it works instantly to repair the broken muscle tissues and help build bigger muscles in your body.
How should I use Pure Whey Protein Concentrate Supplement?
Mix 1 scoop or 35 grams of concentrate protein powder in water or milk (250ml). You can take it between major meals (breakfast, lunch and dinner). Drink plenty of water to keep the body healthy and hydrated.
Is it gluten-free?

Yes. All our products are gluten-free, except for the Cookies N' Cream flavour.