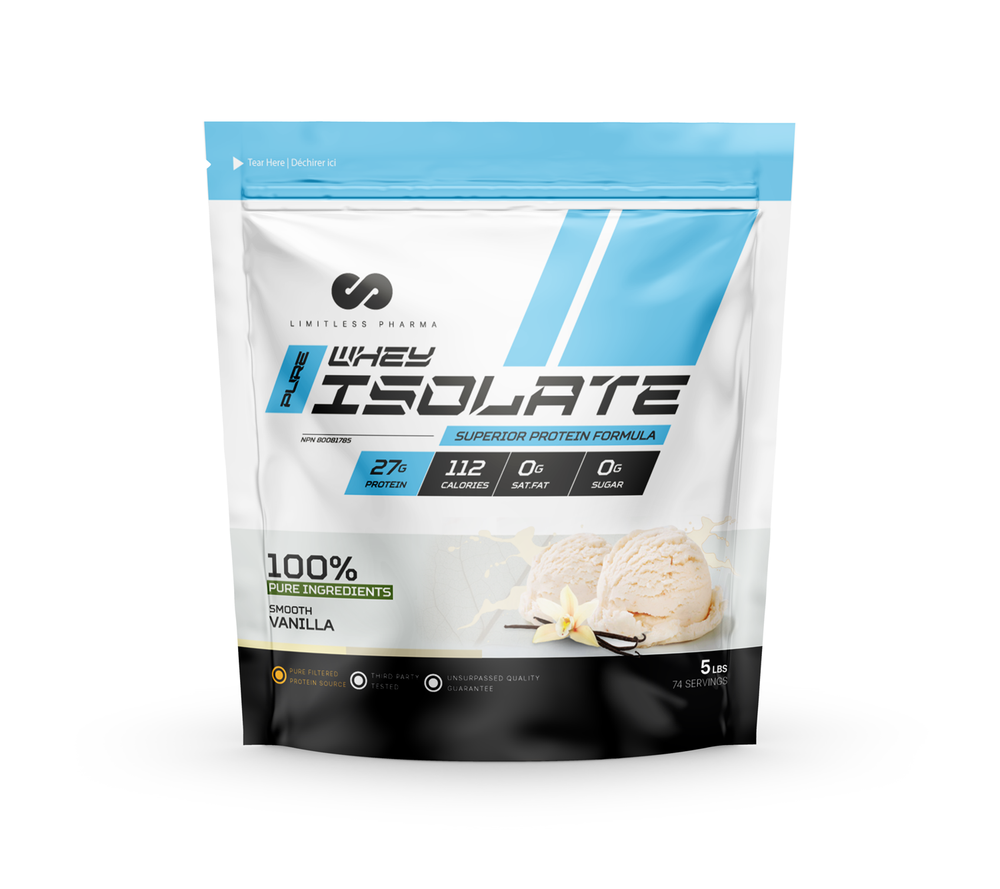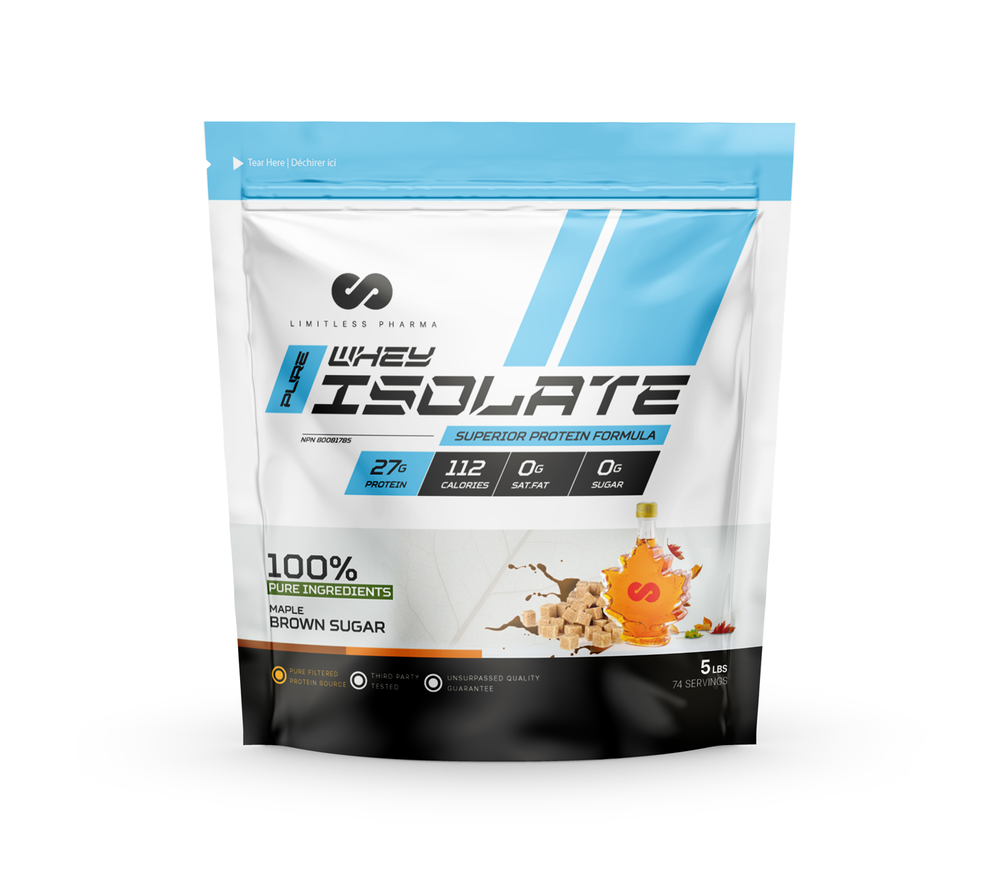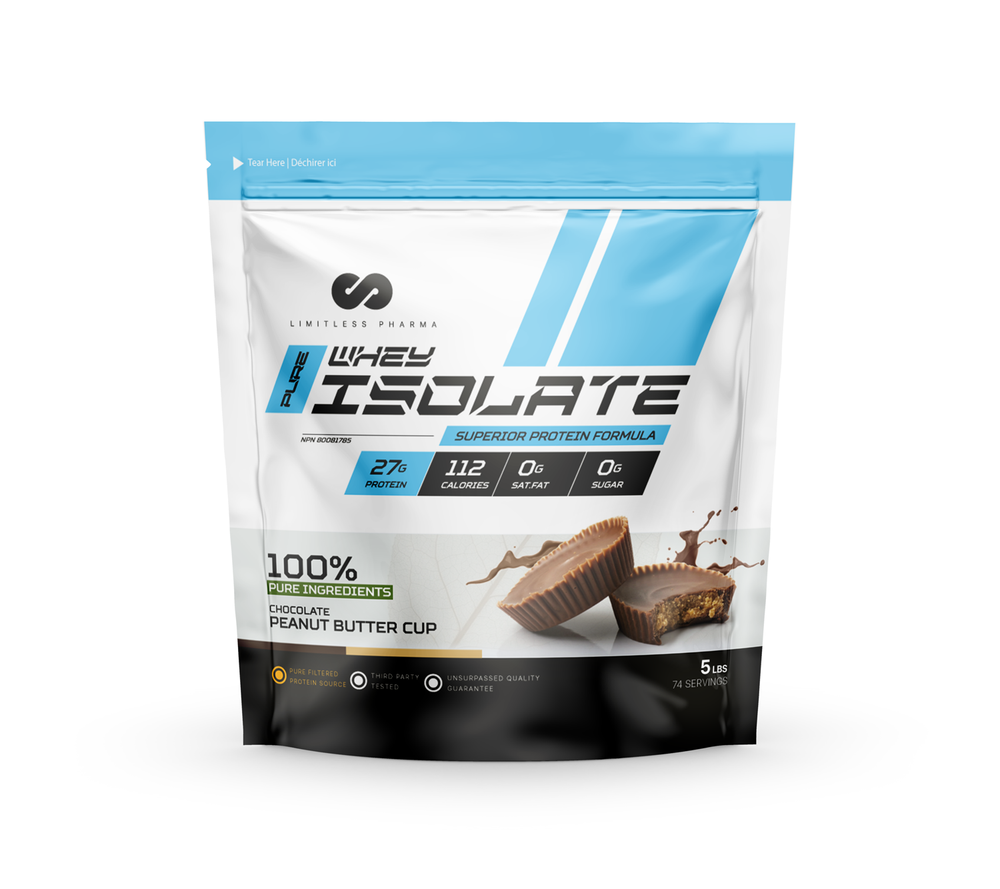 Sale price

$99.99

Regular price
PURE WHEY ISOLATE 5LBS
Close
LIMITLESS PHARMA FUEL YOUR PASSION
Limitless Pharma 100% Pure Whey Isolate is made with the latest and best-in-class extraction technology to achieve the highest amount of pure protein. Whey Isolate is a better-processed form of whey that contains more protein and less fat or carbs per scoop. Our protein is rich in BCAAs and a range of essential amino acids so you do not need to use multiple supplements in order to meet your daily BCAA/protein needs.
As the most bioavailable and easily soluble protein source in the market, our Pure Whey Protein is easy to digest and gets instantly absorbed into the muscles to provide the maximum recovery to your body. It has good amounts of many important nutrients like Sodium, Potassium, Vitamins, Calcium, Iron, among others, and significantly lower quantity of lactose, fat, sugar, and carbs that will give your muscle exactly what they need in order to grow bigger and stronger.
Our Whey Isolate Protein is quite famous among athletes and bodybuilders around the world who have been using it for years as a proven way to gain muscle and get the most out of their training sessions. Most of our new customers stick with Pure Whey Protein after trying it once.
Our Protein Powder is made with a research-backed, bloating-free formula that will make you stronger and has no side-effects at all! All ingredients that are used for making Whey Isolate Protein are laboratory tested and are certified-safe!
Available in 10 super delicious flavours, Whey Isolate Supplement is all you need to achieve and maintain the adequate protein supply to your muscles and get a stronger body after each workout.
RECOMMENDED DOSAGE:
One serving (one scoop) mixed with 250ml of water or milk.

Bodybuilders & athletes: for the best results, take 2 to 4 scoops of Whey Protein Isolate per day.
FREQUENTLY ASKED QUESTIONS (FAQ)
How is Limitless Pharma Pure Whey Protein Isolate powder manufactured?
Our protein is made through the latest extraction technology that helps get the maximum and purest form of protein with the lowest amounts of carbs and fat. It's made with the processing of whey produced from milk.
How do you test it for heavy metals?
Our Whey Protein Powder is research-based and uses a science-backed formula, which makes it free of any heavy metals you can find in other whey products in the market. Moreover, we test our products multiple times during and after production for such things.
Why is your Isolate supplement the best in the market?
Our Whey Isolate is the purest form of protein you can get out there. It's made from advanced processing of whey to get 100% pure protein with a full profile of branch-chained amino acids. Also, it has the lowest amounts of lactose, fat, sugar, and carbs so that you only get the best out of your protein supplementation.
Does your Whey Isolate supplement contain sucralose? Is it safe?
Yes, we use sucralose, besides stevia sweet, to give our products a natural and mild sweetness. Sucralose is a research-backed product and has been certified as a completely safe artificial sweetener.
Should I use it before or after a workout?
Ideally, whey protein powder must be taken immediately after a workout, as it works instantly to repair the broken muscle tissues and help build bigger muscles in your body.
How should I use Pure Whey Protein Isolate Supplement?
Mix 1 scoop or 31 grams of isolate protein powder in water or milk (250ml). You can take it between major meals (breakfast, lunch and dinner).
Can I take Limitless Pharma Whey Isolate with food?
Yes, you can mix Whey Protein Powder to a range of foods such as pancakes, muffins, breakfast cereals, among others to increase their taste and protein content. Alternatively, you can take whey protein powder blended with water or milk, especially when you have no time to cook a hearty breakfast.
Is it gluten-free?

Yes. All our products are gluten-free, except for the Cookies N' Cream flavour.