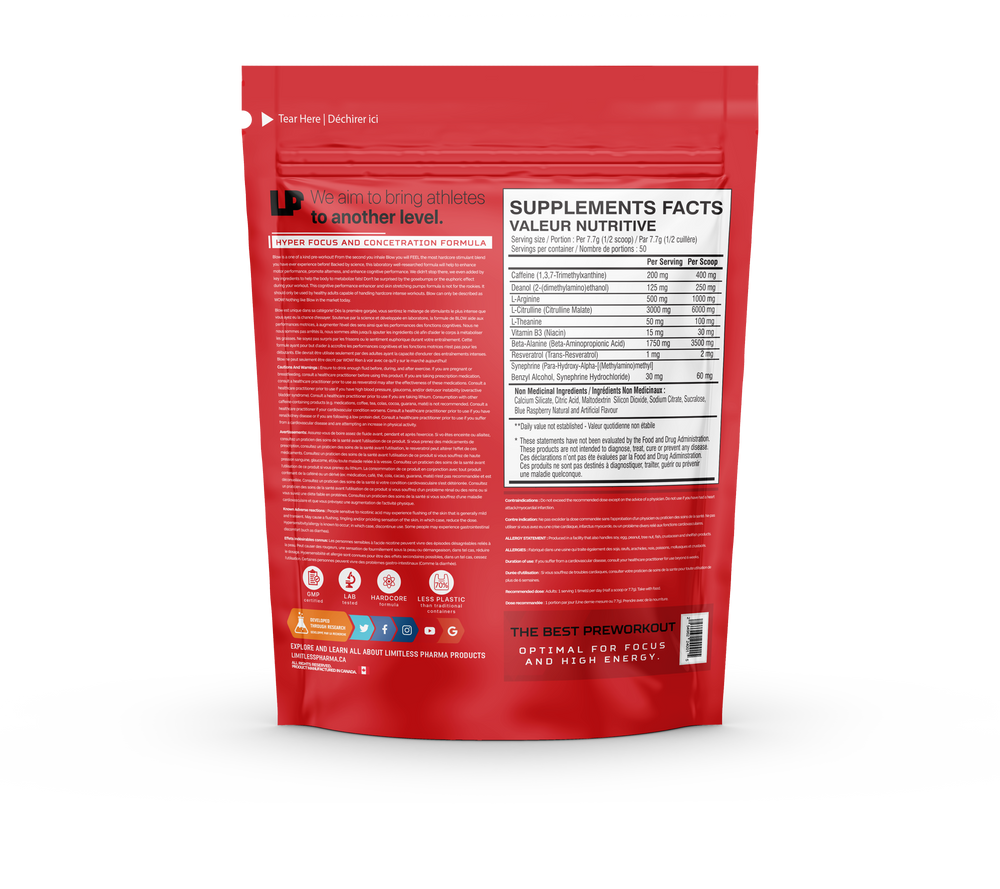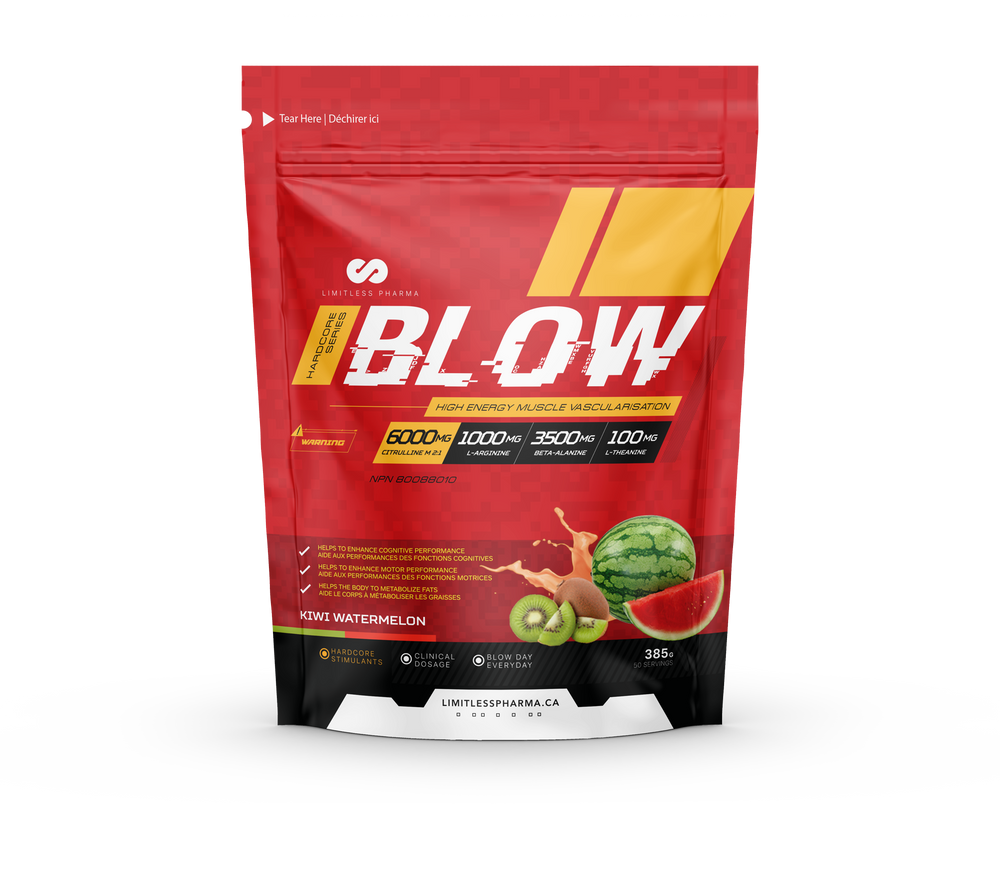 Sale price

$59.99

Regular price
BLOW Pre-Workout
Close
PUMP TO ACHIEVE EVERY WORKOUT GOAL
Do you want more energy and stamina for your exercise? Are you looking for the best way to get the maximum performance out of your workout? Well, you've just found it.
BLOW is a research-backed, state-of-the-art pre-workout supplement designed to help fitness enthusiasts like you get the most out of your training sessions. This unique laboratory-researched formula will give you maximum energy and motor performance, help increase alertness and focus and improve the overall cognitive function to prepare your body and mind for hardcore training.
Use a few minutes before a workout to get immense PUMP, STAMINA, FOCUS, and RELENTLESS ENERGY to get going for hours!
L-Arginine and L-Citrulline in BLOW will boost the blood flow to the nerves and muscles, allowing quick recovery and synthesis of bigger muscles in the body. Caffeine will keep you focused and active during the exercise, while L-Theanine helps keep the body calm and relaxed.
Limitless Pharma BLOW Pre-Workout Powder comes in 9 super delicious flavours, including Blue Raspberry, Pink Lemonade, Peach Candy, Fruit Punch, among others.
High Nutritional Value
Being rich in high-value nutrients & ingredients, BLOW Pre-Workout is a perfect supplement choice to get the much-needed PUMP, STAMINA, FOCUS, and ENERGY for an intense workout session.
What else you get from BLOW Pre-Workout -
Relentless Energy
Improved Focus & Alertness
Increased Blood Flow to Nerves
Elevated Nitric Oxide
Insane Pump & Strength
More Power, Speed & Endurance!
RECOMMENDED DOSAGE:
Adults: One serving per day (half a scoop or 7.7g). Take with food. Do not exceed one full scoop in a 24-hour period.
FREQUENTLY ASKED QUESTIONS (FAQ)
How is Blow Pre-Workout better or different from other supplements?
Blow Pre-Workout is a complete pre-workout supplement that is designed specifically to give you incredible power, energy and mental focus for a workout. By minimizing muscle fatigue and keeping you energized for long, it ensures you get the most out of your exercise and build muscles fast. Moreover, it contains research-based and ideal amounts of different important nutrients so as to give you the best results with each dosage.
Who should use Blow Pre-Workout?
Anyone who is looking to get the maximum out of their physical activities and boost performance and energy levels for an exercise must use BLOW Pre-Workout Powder.
Should I use it before or after a workout?
Well, since it's a pre-workout supplement, it has the best benefit if used immediately before exercise to give you enough energy and stamina to keep working out for long hours. Ideally, it should be taken 20-30 minutes before you start exercising.
How should I use BLOW Pre-Workout Supplement?
Add ½ scoop or 7.7 grams of pre-workout powder in water (250ml) and drink it about 20 to 30 minutes before your workout. You can mix it with up to 500ml of liquid.
Does Blow Pre-Workout Supplement have any side effects?
No, it has no reported side effects. However, it should not be taken directly (dry scooping) or in excessive amount. Make sure to read all the cautions and warnings on the product before you start using it.
Does it help boost stamina?
Yes. In fact, the primary use of the Blow Pre-Workout is to give you incredible energy and stamina for a workout. By taking it before a workout, you can help improve performance and remain energized for long.
Can I take BLOW before sporting activities like running? Is it legal for professional sports?
Yes, you can take BLOW Pre-Workout supplement to improve your performance and stamina for sports like running and others. And yes, it's completely legal to consume for professional athletes. It's not a performance-enhancing drug, but a nutrition supplement.
Does it contain caffeine? Will it affect my sleep quality?
Yes, BLOW contains caffeine, which is known to be an amazing concentration booster. It helps you focus and counteracts tiredness so that you can continue to work out for long. Caffeine (in BLOW Pre-Workout) will not affect your sleep quality, as long as you avoid taking it at night.